Events
Upcoming Events
Thursday, November 7, 2013
Chi-chi's first concert after major shoulder surgery!
Join Chi-chi and the Orchestra of the Age of Enlightenment on 7 November 2013 at Queen Elizabeth Hall in a concert featuring Beethoven's light-hearted and playful Symphony No. 8,  performed without a conductor, with OAE leader Margaret Faultless instead at the helm.
OAE's The Works concert series continues into a third year, giving audience members the opportunity to enjoy a guided tour to selected pieces of music. The evening features a movement-by-movement guide and full performance of the piece, plus a chance to meet musicians afterwards. Concert lasts 80 minutes with no interval.
Click here for complete details and tickets. See you at the show!
Past Events
Monday, June 3, 2013
On 3 June 2013 the Orchestra of the Age of Enlightenment and conductor William Christie perform a Tribute to one of the most incredible mezzo-sopranos of our time; Lorraine Hunt Lieberson.
'Queens, Heroines and Ladykillers: A Tribute to Lorraine Hunt Lieberson' will see three mezzo-sopranos take to the Royal Festival Hall stage, for an all Handel programme, featuring some of the composers most dramatic arias.
Click here for more details and tickets!  See you at the show!
————————————–
May 18 – August 25, 2013
Founded in 1934 by John Christie and his opera singer wife, Audrey Mildmay, Glyndebourne is committed to presenting opera of the highest quality, commissioning new work, developing new talent and reaching new audiences. The Glyndebourne Festival presents six productions each year in a 1,200-seat opera house built in 1994.
Chi-chi will be performing with the OAE, at the Glyndebourne Festival in Verdi's Falstaff & Rameau's Hippolyte et Aricie.  Tickets available online. Hope to see you at this most quintessential of English settings!
————————————–
Wednesday, July 24, 2013 @ 11:00am
COFFEE CONCERT, featuring:
Chi-chi Nwanoku (double bass)
Christopher Glynn (piano)
Dragonetti – Solo in D minor (after Corelli)
Francis Baines – Grounds
Dragonetti – Waltz no. 3
Bottesini – Reverie
Franz Keyper – Romance and Rondo
Dragonetti – Waltz no. 7
Koussevitsky – Chanson Triste
Norman Hester – The Bull Steps Out
Piazolla – Libertango
Get Tickets + More information
——————————————————————————————————–
Monday, April 29, 2013 @ 1:30pm
Purcell Room, Southbank Centre, London
Part Three: Pushing the Boundaries
Venue:   Southbank Centre, London
Date:      Monday 29th April 2013
Key stakeholders debate steps for collective, sustainable change. We hope to address:
·         Why diversity still really matters (especially in this current climate)
·         The role of funding in pushing the boundaries
·         Orchestras: Changes, Challenges and obstacles
·         Jazz and Classical music, diversity conversations
Speakers
– Marshall Marcus – CEO of the European Union Youth Orchestra
– Dr Omar Khan – Head of Policy Research, Runneymeade Trust
– Timothy Walker – Chief Executive and Artistic Director, London Philharmonic Orchestra
– Gary Crosby, OBE – Director, Tomorrow's Warriors
– Chi-chi Nwanoku, MBE – Principal Double Bass and Founder Member, Orchestra of the Age of Enlightenment
– Milica Robson – Relationship Manager Diversity in Arts Practice/Music, Arts Council England
Our chair will be Hilary Carty.
Workshops/Roundtables
Through workshops/roundtables we will invite all delegates to imagine a different landscape and consider the important steps that we will need to get there. We will also review the Advance Network's journey so far and will be supported in doing this by the presentation of the network research.
February 15, 16 & 17,  2013

Chi-chi Nwanoku, featured soloist with The Portland Baroque Orchestra, Feb 15, 16, 17

Listen to Chi-chi Nwanoku's Interview with Caitriona Bolster, KWAX Radio, Portland, OR

Mozart. Divertimento in D major. K 136
Haydn. Divertimento in C major. Hob II;C5.
Vanhal. Divertimento in G major.
Dragonetti. Bass Quintet. No 18.
Boccherini. Quintet. G 324.
Musica Notturna delle Strade di Madrid.
Monica Huggett, artistic director of the Portland Baroque Orchestra, along with PBO chamber soloists join Nigerian-Irish virtuoso Chi-chi Nwanoku for chamber music featuring double bass in a uniquely soloistic role.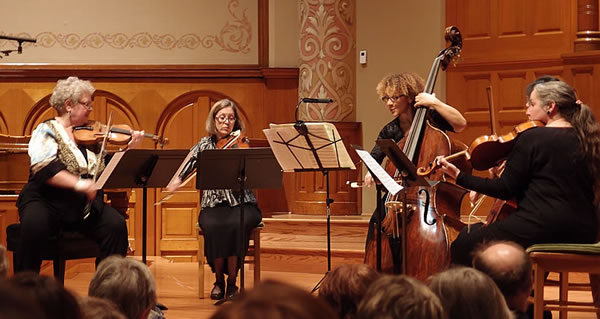 Tuesday, January 29, 2013

Sir Simon Rattle + OAE + Mozart

Orchestra of the Age of Enlightenment Principal Artist Sir Simon Rattle joins the Orchestra to conduct Mozart's last three symphonies.
Although written in relatively quick succession, these three works offer great contrasts. Symphony No.39 is full of wide, flowing melodies, whilst Symphony No.40 plumbs deep emotional depths and is perhaps one of the most tragic pieces that Mozart penned. Conversely, his last Symphony, No.41 'Jupiter', rounds the evening off in an explosion of sheer joy, energy and exuberance.
Royal Festival Hall
Southbank Centre, London
Orchestra of the Age of Enlightenment
Sir Simon Rattle conductor
Wednesday, January 9, 2013

The Creation, Haydn's Masterpiece Oratorio
Wednesday, January 9, 2013, @ 7:00PM
Royal Festival Hall
Southbank Centre, London
Time: 7:00pm
Admission: £9-£60
Venue telephone: 0844 847 9922
Orchestra of the Age of Enlightenment
Adam Fischer, conductor
Sophie Bevan, soprano
Andrew Kennedy, tenor
Andrew Foster-Williams, baritone
Schola Cantorum of Oxford
Haydn's oratorio The Creation is not only one of the composer's most popular pieces, but is also one of the most vividly descriptive pieces of classical music there is. Each aspect of the story is brilliantly brought to life by Haydn's expressive music – you can really hear the black emptiness before the First Day, the lion leaping, and experience the heat of the sun as it rises – and the added contrast and texture of period instruments only adds to the effect. A wonderful way to start the new year. This will be quite a poignant bit of musical chronology for OAE, because the last performance OAE did before Christmas was Handel's 'Messiah'… the very piece that Haydn heard 'live' on his 2nd  and final visit to London, inspiring him to write the Creation on his return to Austria.