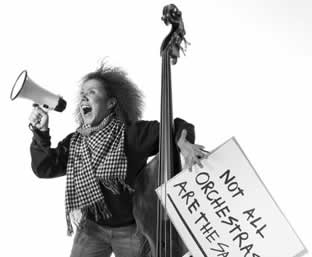 Tue 12 May 2015
Time: 7:00pm
Queen Elizabeth Hall, London
The Rough with the Smooth
Admission: £9-£38
Venue telephone: 0844 847 9922
Click here to book tickets.
At the centre of this concert is a brand new piece by the acclaimed composer Stevie Wishart, whose track record encompasses both early music and cutting-edge electronics.
The concerto, unusually, puts the double bass centre stage, in a piece inspired by the baroque concerto grosso. Here our Principal Double bassist Chi-chi Nwanoku plays between two 'concertanto' groups, the soave (smooth) and the ruvido (rough), with the rest of the Orchestra behind. Complementing this new work are pieces by Handel, Telemann and Vivaldi.
Telemann Overture Burlesque
Telemann Concerto for violin in Bb major
Stevie Wishart Concerto à Double Entendre (world premiere)
Handel Concerto for harp and lute in B flat
Handel Sonata à Cinque in B flat, HWV 288
Handel Concerto Grosso Op 6 No. 1 in G
Featuring:
Kati Debretzeni director/violin
Chi-chi Nwanoku MBE double bass
OAE Extras at 5.45pm. Queen Elizabeth Hall auditorium.
Free Admission.
Chi-chi Nwanoku MBE and Stevie Wishart introduce tonight's world premiere.